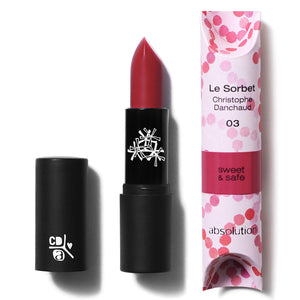 Absolution
Kiss 03 Cerise Glow
Regular price
£24.00
£24.00
Unit price
per
Tax included.
Shipping
calculated at checkout.
Sweet, juicy, cherry red!
A subtle, almost rosy red to enhance and beautify your lips, so they're absolutely kissable… and absolutely irresistible.
Ingredients
97% natural origin, 76% organic.
0% parabens, PEGs, phtalates, mineral oils, GMOs and synthetic fragrances.
We have also added natural and organic ingredients, botanical oils (Castor, Jojoba and Sunflower, with softening, moisturizing and nourishing properties), Beeswax and Carnauba wax, with protective and film-forming properties… and no suspicious ingredients, of course!
Argan
Rich in Vitamin E and omega 3 fatty acids, its oil helps to restore the skin's hydrolipidic film and increases the supply of nutrients to skin cells, to slow down the effects of aging.
Centella Asiatica
This energizing herb promotes fibroblast proliferation and collagen synthesis. It also helps to accelerate skin repair and calm reactive skin.
Carnauba wax
For our mascara to be long-lasting, we enriched its formula with Carnauba wax. This wax allows Le Mascara to be highly heat resistant. 
Beeswax
Beeswax contains Vitamin A, which gives it natural moisturizing, soothing and nourishing properties. It envelops the skin in softness and protection and is particularly effective in protecting against environmental damage.
Jojoba Oil
Both calming and softening, this easily absorbed oil sinks into the skin without leaving a greasy feel. It protects against dryness and wrinkles by slowing water loss from skin cells. It helps to rebalance the skin and control sebum production, protects and softens, and is suitable for sensitive skin. With regenerating and anti-aging benefits, it works to maintain skin elasticity and suppleness (activates elastin metabolism) and smooth and firm the skin.
Shea Butter
With moisturizing and repairing properties, shea butter helps to combat skin aging, prevent stretch marks and protect the skin. It softens all skin types, even the most sensitive, relieves itching and irritation, helps to diminish stretch marks and promotes healing. It even protects against sun damage!
---
Share this Product
---