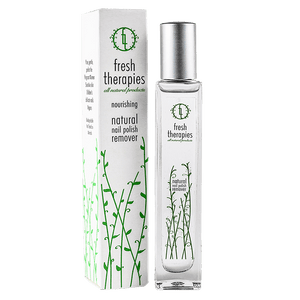 Fresh Therapies
Natural Nail Polish Remover 50ml
Regular price
£11.99
£11.99
Unit price
per
Tax included.
Shipping
calculated at checkout.
A natural nail polish remover that is not harmful to you or your nails in anyway.
It will not damage the natural oil within your nails. Instead, it will promote the health of your nails.
This nail polish remover works perfectly on all types of nail polish. However, it is not suitable for polish coating false nails.
The natural polish remover is translucent with a fragrant smell which includes a hint of lime for freshness.
Ingredients
Dimethyl Glutarate, Dimethyl Adipate, Dimethyl Succinate, Ethylhexyl Palmitate*, Limonene*, Citrus Aurantifolia Oil*, Citral*, Linalool*.
*Vegetable derived.
All these ingredients are biodegradable and safe for the environment as well as you. This product is not tested on animals and is suitable for use by vegans.
The following undesirable ingredients have NOT been included in this product:
Isopropyl, Alcohol, Glycerin, Benzophenone 1, Acetone, ButylAcetateToluene.
These are all known to dehydrate the skin, making nails dry and brittle, with some ingredients also irritating the eyes and nose. Reassuringly, this product does not include any of these undesirable ingredients.
 CAKK
---
Share this Product
---