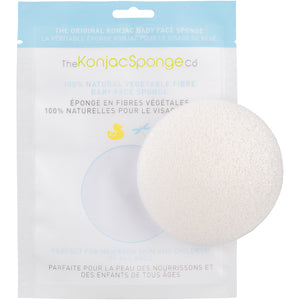 The Konjac Sponge Co
Pure White Sponge for all skin Types
Regular price
$11.53
$11.53
Unit price
per
Tax included.
Shipping
calculated at checkout.
The 100% Pure Original Konjac Facial Sponge is an everyday skincare essential. Suitable for all skin types, this vegan and cruelty free sponge is a natural mixture of Konjac vegetable fibre and spring water. Simply soak for a few moments until silky smooth to experience a deep yet gentle exfoliation and cleanse.
It is also an effective make up remover; just add water for water-based cosmetics or a drop of your favourite cleanser for regular makeup.
Konjac (or konnyaku) has been used in Korea for over 1,500 years as medicine, food, a dieting aid and in beauty products. The Konjac Sponge Company's pure Konjac is free from chemicals, colouring, additives and irritants.
Approximately 8cm wide, it fits in the palm of your hand for easy cleansing. Just add water for the ultimate natural skincare exfoliation.
Our packaging is now eco-friendly FSC certified with a window made from cellulose acetate (so it's completely biodegradable!).
Awards 
2014 - CEW Beauty Insiders' Choice - Finalist 
Suitable for all skin types
Certified Vegan & Cruelty Free
Cleanses & exfoliates the delicate eye area
100% natural plant fibre
Use with or without cleanser
100% colouring & additive-free
Made in South Korea on the Island of Jeju
The Worlds No 1 Korean Konjac Beauty Tool Brand
Our 100% pure Konjac is free from chemicals, colouring, additives and irritants. We have lovingly hand-blend this moisture-rich plant fibre with natural volcanic water to create the ultimate skincare sponge. Konnyaku (Konjac) has been used in Korea, Japan and China for over 1,500 years as medicine, food, a dieting aid and in beauty products. It has been highly prized for its health giving properties. Our pure Konjac is certified Vegan and Cruelty Free. It is also 100% biodegradable and fully sustainable.
Before use, rinse and hydrate your Konjac Sponge in warm water. Squeeze out any excess water and gently cleanse skin. It is not necessary to use cleansing products, but a small amount can be added to your Konjac Sponge if desired. If a cleanser is added, the sponge will help the product work harder and go further.
After use, always rinse your sponge well and allow to dry in an airy place. Be careful not to wring it out as this may damage the delicate plant fibres, just squeeze between your flattened hands. You can also pop your clean sponge in the fridge to keep it fresh and cool, which helps it last even longer. Alternatively, your sponge is happy to be aired on a radiator or heated towel rail. It will shrink and harden when it dries out, this is perfectly natural, simply allow it to absorb water and rehydrate before using again. Never use the sponge when dry. The better care of the sponge, the longer it will last. Never leave the sponge in the shower or in a pool of water. Your Konjac Sponge is a 100% natural vegetable product and should last 2 to 3 months. Once it starts to look tired or breaks down, replace it. Our Konjac Sponges can be safely composted or used in the garden to help water your plants by holding moisture. Never leave a child unattended with a sponge.
---
Share this Product
---