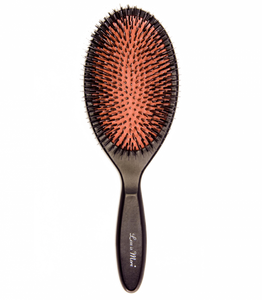 Less is More
Oval Brush Beech- Black (Bristle & Nylon)
Regular price
$83.35
$83.35
Unit price
per
Tax included.
Shipping
calculated at checkout.
grooming & styling • gloss • detox • massage • detangle • all hairtypes
Less is More's natural brush is the essential grooming & styling tool. Perfecty crafted using only the finest natural materials - premium-grade boar bristle and a nylon
pin to facilitate brushing through thick, textured or wavy hair, FSC certified beech wood and natural rubber and with a pneumatic cushion, it is most gentle to the hair and scalp. This natural brush suits for all hairtypes. Brushing distributes natural oils, gently exfoliates the scalp and stimulates circulation of the hair follicles.
INGREDIENTS
Less is More's natural brush is the essential styling- and grooming brush. perfectly crafted hair brush made in Germany / FSC certified beech wood / finest wild boar bristle & nylon mix / natural rubber cushion / cleaning brush included / animals are not harmed in the collection of the boar bristle
USAGE
HOW TO BRUSH – BRUSH RITUAL Regular brushing with a bristle brush is a sensual experience and basis for a healthy scalp and beautiful hair. To gently detox & vitalize the scalp, we recommend daily brushing in the morning.

• do not brush on wet hair.
• brush from root to tip, forwards and backwards to stimulate the arrector pili muscle at the hair root
• if your hair is long, tilt your head forward and brush from the base of the head forward and then back again


CLEANING YOUR HAIR BRUSH a cleaning brush is supplied with the hairbrush and should be used for cleaning both the pad and the pins. Regularly clean your Less is More hairbrush to enjoy it in best condition for many years:

• Dry clean it frequently by removing hairs and scales using a comb and the cleaning brush.
• Wash it occasionally. First dry clean it as above.
• Dip the cleaning brush – NOT the hairbrush - into a lather of mild soap or Less is More shampoo in lukewarm water.
• Use it to brush the pins and cushion of your hairbrush.
• Avoid water entering the a ir hole in the cushion by holding the brush head downwards.
• Repeat the procedure with the cleaning brush using clean rinsing water.
• Shake off excess water from the hairbrush and leave to dry with the pins pointing downwards – at room temperature.
• Do not bring in contact with oils, solvents or other chemicals. Do not use heated devices in contact w ith your hairbrush.
---
Share this Product
---