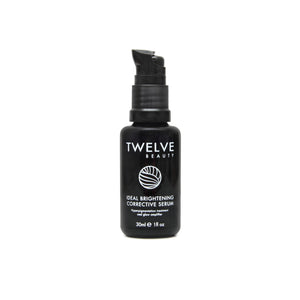 Twelve Beauty
Ideal Brightening Corrective serum 30ml
Regular price
£68.00
£68.00
Unit price
per
Tax included.
Shipping
calculated at checkout.
IDEAL BRIGHTENING CORRECTIVE SERUM
This serum is a green and clean organic formula which naturally brightens your complexion. Its powerful herbs work to reduce the intensity of dark spots and scars, provide more radiant skin tone, and illuminate and correct uneven complexions. For all skin types including those with sensitive skin and those concerned with hyper-pigmentation.
HOW TO USE
Apply 2x daily to clean skin, smoothing over face and neck. Intensive Treatment: Apply an extra layer before going to bed for a luminosity boost. NOTE: Alternate or blend with other Twelve Beauty serums to target the specific needs of your skin.
KEY INGREDIENTS
This super efficient botanical blend contains: Mallow, Peppermint, Cowslip, Willowherb, Lady's Mantle, Heath Speedwell, Cucumber, White Genepi, Lemon Balm, Yarrow, Masterwort, Buddleja.
Yarrow: Contains essential oils and iridioids that block the key enzyme implied in melanin synthesis, tyrosinase.
Peppermint: Rich in essential oils, tannins and polyphenols inhibits the production of melanin
Heath speedwell: Packed with Iridioids and flavonoids improves skin radiance
Lemon balm: Delivers an anti-inflammatory complex formed by antioxidants to help brighten the skin
Cucumber: Apart from its soothing and moisturising properties it has an important detoxifying effect on sun damaged skin
Primula: brightens the skin in a natural way thanks to its concentration of saponins, essential oils and flavonoids.
Buddleja: is rich in antioxidant flavonoids and phenolic acids to help neutralise the free radical damage that leads to skin discolorations.
Lady's mantle: High in tannis, it helps to improve skin's tone
Mallow: Has a deep moisturising and soothing effect on skin. The content of essential oils and tannins plays an important role on minimising hyperpigmentation.
INGREDIENTS
AQUA, GLYCERIN*, SIMMONDSIA CHINENSIS OIL*, CETEARYL ALCOHOL, GLYCERYL LAURATE, POTASSIUM CETYL PHOSPHATE, CUCUMIS SATIVUS FRUIT EXTRACT, MALVA SYLVESTRIS FLOWER EXTRACT*, SODIUM HYALURONATE, MENTHA PIPERITA LEAF EXTRACT*, PRIMULA VERIS EXTRACT*, ALCHEMILLA VULGARIS EXTRACT*, VERONICA OFFICINALIS LEAF EXTRACT*, MELISSA OFFICINALIS LEAF EXTRACT*, ACHILLEA MILLEFOLIUM EXTRACT*, PEUCEDANUM OSTRUTHIUM LEAF EXTRACT*, BUDDLEJA DAVIDII LEAF EXTRACT*, HELIANTHUS ANNUUS SEED OIL*, ARTEMISIA UMBELLIFORMIS EXTRACT*, TOCOPHEROL, PANTHENOL , XANTHAN GUM, BENZYL ALCOHOL, ETHANOL*, DEHYDROACETIC ACID.
* Organic ingredients
---
Share this Product
---